Water Technologies, Treatment Infrastructure & Networks 
A resolute commitment to ecological transformation is the first and most crucial step to reversing the climate crisis. To do this, we must radically alter our patterns of production and consumption by placing ecology at the heart of every process. Our dedication to this principle means that we can leverage innovative solutions that help address South Africa's water challenges, including scarcity, pollution, and inadequate sanitation facilities. 
As a leader in providing water technologies, treatment infrastructure, and networks, we work for the benefit of all our stakeholders and offer them effective solutions for combatting new forms of water pollution, for energy recovery, particularly from sewage sludges, and for recycling wastewater. 
By providing comprehensive water network infrastructure solutions, Veolia Southern Africa helps communities and businesses protect their water resources. From the design and construction of new water treatment plants to the operation and maintenance of existing ones, we are able to provide a full range of services to a broad range of stakeholders. Moreover, Veolia Southern Africa works closely with communities and stakeholders to understand their specific needs and give tailored solutions that meet their unique requirements. This approach helps to improve access to water and ensures that communities and businesses have the infrastructure they need to manage their water supply effectively.
Our services include providing mobile solutions for emergency water, engineering, procurement and integrated support, desalination systems and more. We are dedicated to providing innovative water technologies, treatment infrastructure, and networks to communities and businesses across Southern Africa. With a focus on sustainability and community development, we believe that we can do our bit to help create a better future for all.
Key offerings:
Energy improvement projects
Water reuse projects
EP Treatment projects
On-site liquid waste processing
Anaerobic digestion
OSS project management
Zero Liquid Discharge technologies
Why Zero Liquid Discharge?
Given the growing concern for water scarcity and long-term water supply, as well as increasingly stricter environmental regulations, industrial companies are required to place a higher degree of importance on the reuse of water, a largely underutilised solution. Veolia, with decades of experience using wastewater evaporation, is a ZLD plant supplier of choice.
Management of the entire water cycle for industrial applications drives efficiency and innovation towards zero liquid discharge  (ZLD) in nearly every major industrial application.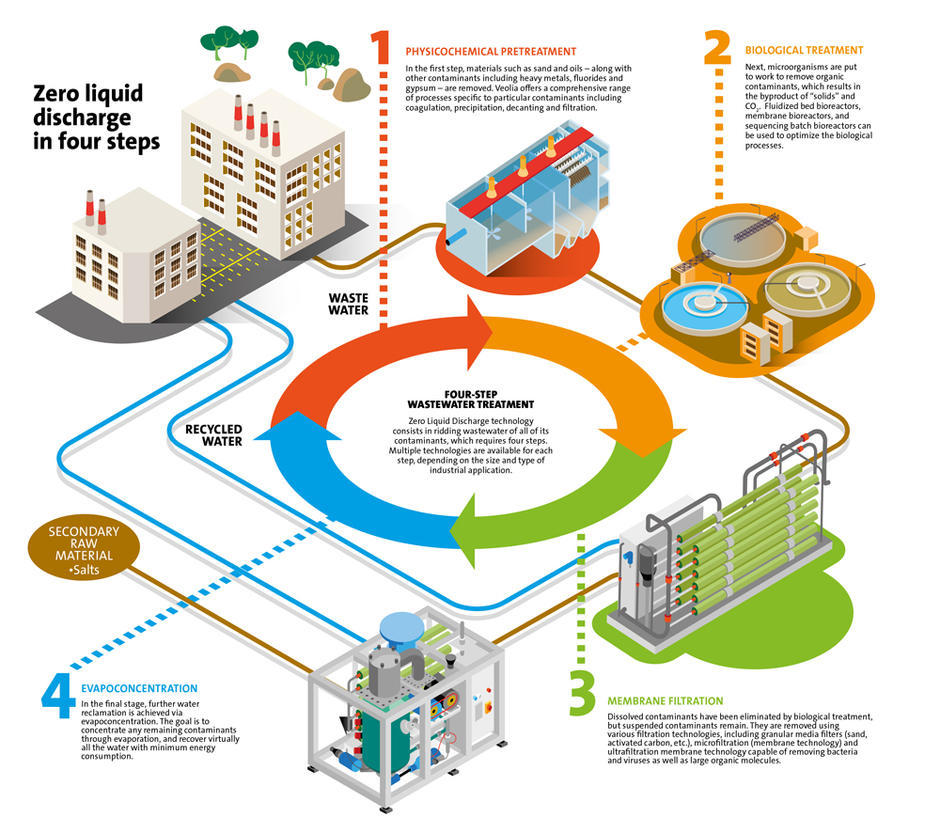 Veolia's range of water treatment plants offers extremely versatile technology that is easy to operate and can be used in a number of applications:
Production of drinking water from surface water
Municipal sewage water treatment
Production of process water or drinking water from borehole/brackish water 
Download our brochure to find out more about our product range: